Saundersfoot Rotary members have been busy, as ever, over the last couple of weeks...
Three Rotarians from Saundersfoot took up the Rotary challenge to raise money for the Rotary "End Polio Now" polio eradication campaign. Rotarians Paul, Roy and John recently completed a 12 mile sponsored walk around the St David's peninsular coast path. 
The money raised will go towards the project to ensure every child in the world is able to be vaccinated against Polio. For over 30 years Rotary Clubs around the world have raised millions for this cause which has seen a 99.9 per cent reduction in reported cases of polio. 
The Club has also continued with the annual 'Shoebox' appeal and collected 460 boxes filled with a variety of items in different categories for children, teenagers or households. They are sent to Eastern Europe for distribution to needy families, hopefully in time for Christmas.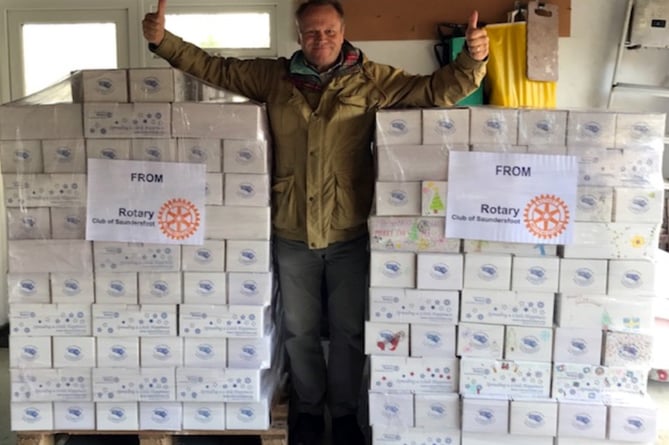 Rotarian John giving thumbs up for another successful year for the Shoebox appeal, with two full pallets of boxes ready for collection.
(Saundersfoot Rotary)
Thanks go to the churches, chapels, schools and individuals who fill the boxes and thanks go to club members, who organise and plan the collections. Rotarian Brian Waters does a great job each year as coordinator of the project and this year he also converted his garage into a temporary warehouse!