Much-loved Tenby character passes away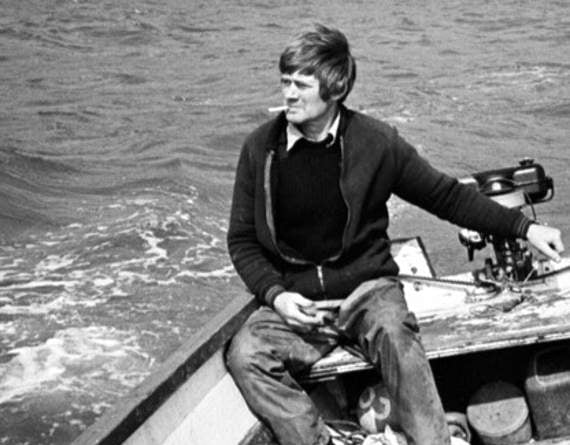 David a much-loved character around Tenby harbour is pictured here in the late 70s captured on camera by his son Alun Crockford
Subscribe newsletter
Subscribe to our email and get updates right in your inbox.
The funeral of much-loved Tenby character David Crockford will take place on Friday, September 24, at Parc Gwyn Crematorium, Narberth
Aged 85, David of Leachway, Tenby, slipped away peacefully on Sunday, September 12 at Withybush Hospital with his family by his side.
He will be sadly missed by his wife Mo, sons and daughters-in-law Alun and Sara; Philip and Sharon; grandchildren Will, Laura, Isabel, Tudor and Lydia; great grandchildren Anna, Honey, Elvie and Thea; sister Betty and other family and friends too numerous to mention.
Posting on social media, David's son Alun said that his dad passed away with 'a smile on his face' and that his last words, spoken to his beloved grandson William, were - 'it's all been perfect'.
Alun continued: "He told Charles he had 84 good years out of 85, most of them spent down the harbour, drinking tea, fishing, going back and fore to Caldey, hanging around in the stores, drinking more tea, walking around Castle Hill off to the allotment, then playing with his great-grandchildren when they were supposed to go to bed."
The owners of Tenby Harbour Snack Bar, where David frequented regularly paid tribute on Facebook: "We are heartbroken and devastated to learn of the passing of David- he was a wonderful man whom brought so much happiness to us all.
"We will forever miss his presence down the harbour and his witty ways. We will all be having a cup of tea in his name.
"Our thoughts are with his family at this difficult time, May you rest in peace."
The funeral service will takes place at Parc Gwyn Crematorium, Narberth at 1 pm, with a request from the family to please wear colourful clothing.
No flowers by request, but if desired, donations in memory of David me be made payable to Ty Hafan c/o Funeral Directors Messrs W & M J Rossiter & Sons Ltd, The Old Rectory, The Norton, Tenby, SA70 8AB.
A link for the live stream of the service at Parc Gwyn Crematorium can be viewed at: https://rossitersfunerals.co.uk/funeral-notices
PARC?GWYN CREMATORIUM?UPDATE?ON?ATTENDING?SERVICES
Funeral Directors Messrs W & M J Rossiter & Sons Ltd, have provided the following update from Parc Gwyn for rules on attending the crematorium...
Following last month's increase in mourners from 12 to 20, the Crematorium is now in a position to continue with a graduated approach towards 'normal' and increase to a maximum of 32 mourners inside the service Chapel not including the officiant or funeral director, as from Wednesday, September 8.
Location of Seating – All chairs will be located within the main service room of the Crematorium Chapel, we shall no longer provide seating within the organ loft, viewing gallery or entrance lobby.
Chairs - We shall return to our wooden upholstered chairs, and these will be linked together and positioned in four rows of eight chairs, we shall continue to maintain an element of social distancing during the service as the chair backs will be approximately 1.8 away from the immediate row in front. There is to be NO moving of chairs unless to facilitate the positioning of a wheelchair on the end of a row.
Whilst making arrangements with families it's important to remember and discuss with them that they and their invited 32 mourners may require additional social distancing within the rows, this can still be achieved by leaving a gap between mourners if required, ultimately this will reduce the total of mourners which can be seated.
Standing – There is to be NO standing of mourners or their carers anywhere during the service, every mourner or carer must be allocated a seat, standing is only permitted outside where we permit an unlimited number to do so where the service can heard via our external speakers, and for those standing under the canopy the viewing screen will continue be made available.
Closing of Committal Curtain – We shall continue to ask that this is closed before mourners leave their seats to depart from the Chapel, this request is to assist with vacating the Chapel quickly to ensure we can safely prepare the Chapel for the following service.
Comments
To leave a comment you need to create an account. |
All comments 0