A Lady Captains Charity Day at a local golf club 1,000 has raised for the Paul Sartori Foundation.
On October 7, 2023, South Pembrokeshire Golf Club in Pembroke Dock held their Lady Captains Charity Day.
Lady Captain Joanne Owen Chose the Paul Sartori Foundation as the beneficiary of this charity event. The Paul Sartori Foundation is a Pembrokeshire-based Hospice at Home Charity which provides a range of services to people living in the final stages of a life-limiting illness.
The Lady Captains Charity Day was supported and enjoyed by many local businesses, supporters, and Club Members, and a fantastic total of £1,020.00 was raised.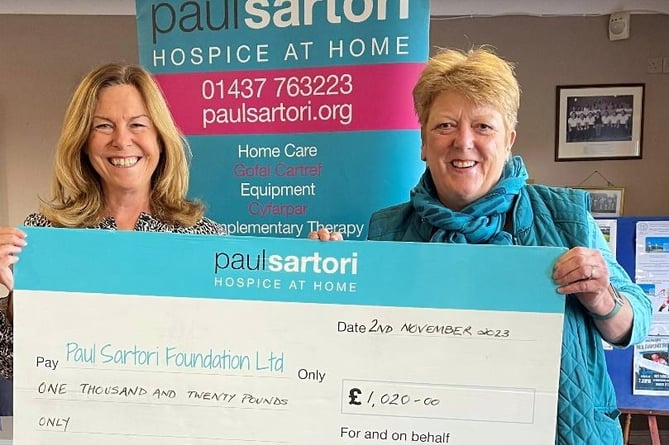 Previous Trustee and Voting Member of the Paul Sartori Foundation Sara Alderman is handed a cheque from Ladies Captain Joanne Owen.
(Pic supplied)
The services provided by Paul Sartori Hospice at Home enable people in the later stages of any life-limiting illness to be cared for and to die at home with dignity, independence, pain-free and surrounded by those they hold most dear, if that is their wish.
All the services provided by the charity are free of charge and are available 24-hours a day, 365 days a year, thanks to the generosity of the Pembrokeshire community.