Follow 'Tinman Tuesdays' to help Pembrokeshire foodbanks during the pandemic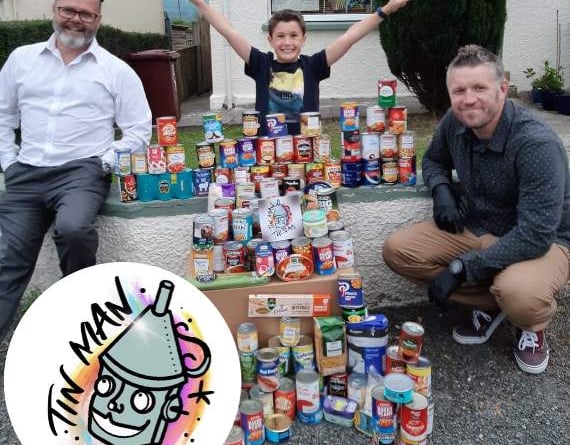 Wyndham Williams and son Iori with Round Tabler Ian Gravelle hope that others will get involved in the 'Tinman Tuesday' project to help Pembrokeshire foodbanks.
Subscribe newsletter
Subscribe to our email and get updates right in your inbox.
A new initiative set up in Narberth aims to help and support Pembrokeshire community foodbanks by safely collecting tins from a driveway or wall.
'Tinman Tuesday' is a project designed to support foodbanks by safely collecting tins from outside people's homes on a specific time and day, with the tins then delivered to a local foodbank or food redistribution project.
As this current situation with the pandemic has gone on, foodbanks across all of Pembrokeshire have seen a massive increase in demand.
At the same time, donations to foodbanks have dropped as people are no longer regularly visiting the supermarket and filling the food bank collection baskets as they usually would.
The concept of 'Tinman Tuesday' which got underway this week in Narberth came from Pembrokeshire Community Connector Plus Officer for PAVS - Wyndham Williams, with a little help from his friends.
"Tinman Tuesday was born from a memory when I was six years old when I used to go around Narberth town, with my grandmother Nelly Williams, knocking peoples doors asking for food donations for the British Legion raffle," explained Wyndham.
"I can always remember pulling around a trolley bag full of tins and people in the town being so kind by donating all kinds of food parcels to support the British Legion.
"So through a socially distant fence meeting with my with my two furloughed neighbours Ian Gravelle of Narberth and Whitland Round Table and Mathew Price of Sursum Tattoos, we brought this memory back to life!" he said.
The whole aim of 'Tinman Tuesday' is to help and support foodbanks across Pembrokeshire by safely collecting tins during a weekly collection, every Tuesday at 6 pm.
"We will strive to collect everyone's tin donations safely, and to collect tins we apply by social distancing rules and follow strict hygiene standards to collect donations," commented Wyndham.
The amazing Tinman Tuesday artwork has been created by my neighbour Mat from Sursum tattoos, while Narberth's very own Rainbow Fairy Diana Brook has also been involved in the project.
Narberth and Whitland Round Table members and Revelation Clothing in Narbeth have also been volunteering to pick up tins and print out leaflets, posters and t-shirts for free for the project, with other kind offer of help in the community coming from Tim Plumb assisting to make an online platform to co-ordinate tin pick ups on a GIS map, as well as the Narberth Nobblers running club.
After a successful start in Narberth, the project is now being opened up to all communities who want to take part.
"The long term aim will be to recruit future Tinmen in other towns across Pembrokeshire to help support the Pembrokeshire food banks and people in their community," continued Wyndham.
"Currently we are working with Pembrokeshire Association of Volunteers service to help other potential Tinmen in other towns to set up their own Tinman project through the online Connect 2 Pembrokeshire Platform."
Anyone can set up their very own Tinman community project today by using some of the resources that will be on the Connect 2 Pembrokeshire platform soon.
Those organising the project should think of a route that encompasses as much of the community as possible and make sure that everyone knows about it - post on your community Facebook page, create leaflets to deliver or put a notice up in the village - but tell everyone and give them enough time to get some tins together.
Tinman Rules: 1) Your tin has to be more than a 3 month best before date; 2) Is still labelled; 3) Your tin is in a safe place (doorstep, wall, end of driveway).
For further information and help please email: [email protected] or visit https://m.facebook.com/pages/category/Community-Organization/foodcloudpembs
Comments
To leave a comment you need to create an account. |
All comments 0