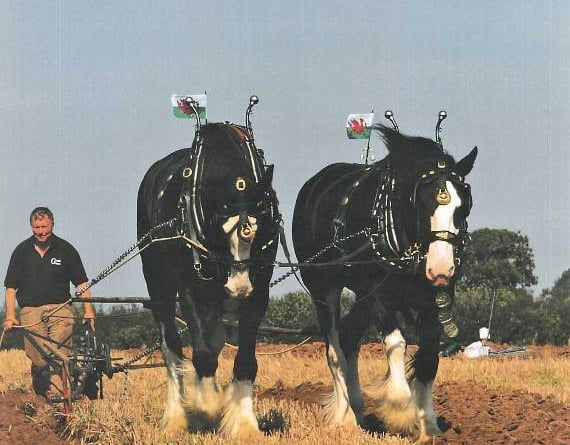 Subscribe newsletter
Subscribe to our email and get updates right in your inbox.
Our land has been worked since time immemorial, mostly by peasant families living in or near villages where there was sufficient land for farming. Medieval towns were small, but still needed the food produced by surrounding villages.
Medieval farmers/peasants had no access to tractors, combine harvesters etc. and the farming tools were very crude to say the least. These peasants had specific work they had to do in each month and following this 'farming year' was very important as farming dominated the lives of most.
Farms were much smaller then and the peasants who worked the land did not own the land they worked on. A peasant family was unlikely to be able to own that most valuable of farming animals - an ox.
An ox or horse was known as a 'beast of burden' as it could do a great deal of work that people would have found impossible to do. A team of oxen at ploughing time was vital and a village might club together to buy one or two and then use them on a rota basis. In fact, villagers frequently helped one another to ensure the vital farming work got done. This was especially true at ploughing time, seeding time and harvesting.
The most common tools used by farmers were metal-tipped ploughs for turning over the soil and harrows to cover up the soil when seeds had been planted. Growing crops was a very hit and miss affair and a successful crop was due to a lot of hard work, but also the result of some luck.
Time has, thankfully, moved on and - apart from a few enthusiasts who still enjoy displaying their acquired art - ploughing is now done by men with tractors.
It was at one of the first South Pembrokeshire ploughing matches held near Castlemartin nearly 90 years ago that the first tractor was seen drawing a plough - competing against around 20 teams of horses!
The same skills were necessary for horse or tractor work, carefully setting the machine, keeping to the required depth and width and essentially cutting a straight furrow. Since then the design and performance of tractors and ploughs, together with their size and versatility, has vastly improved.
But the old stalwarts remain and ploughing now appears on the world stage - an international sport not unlike the Olympics? Just take a look at some of the photographs on these pages of tractors and ploughs - some well over 70 years old - still capable of turning an excellent furrow.
It is machines of this nature that may be seen working at Rowston Farm, Stackpole (SA71 5BZ), when the European Vintage Ploughing Championships are being held on Saturday, September 24. This is a something of a bonus for the 55th annual local match in addition to the usual ploughing and plashing classes, machinery demonstrations and static vintage displays that are regularly featured.
This is truly a competitive time for skilled ploughmen as competitors from all over the globe performed at the World Ploughing Match in Yorkshire last weekend and the Mill Ground, Tregoyd, near Brecon (LD3 0SW), will be the venue for the Welsh Championships tomorrow (Saturday, September 17).
Comments
To leave a comment you need to create an account. |
All comments 0