With mixed weather over the last few months, we've all been eagerly waiting for the annual show of autumn colour, but it's finally here.
A kaleidoscope of rich browns, golden yellows, vibrant reds, and vivid oranges can be found in gardens, woodlands, and parklands across Wales. Now is the time to see the country in its full autumn glory so dig out your knitwear, pull on your walking boots, and feel the crunch of leaves underfoot as you take a walk through an incredibly vibrant landscape at one of National Trust Cymru's top spots near you to soak up the autumn colour.
Colby Woodland Garden, Pembrokeshire
Once an industrial coalfield, today this peaceful valley and 19th-century estate is home to an 8-acre woodland garden that has masses of vibrant autumn colour to discover. Pull on your walking boots and meander along winding garden paths as you look for different varieties of colourful fungi, watch birds and other wildlife preparing for winter, or relax and enjoy a moment of tranquillity in the sky gazing glade. Elsewhere, enjoy the Japanese Maples, Liquidambar and the extraordinary golden Ginko tree near the stream in the meadow, visit the small orchard, or kick through fallen leaves as you watch dappled sunlight steaming through the golden canopy of the native trees around you. Find out more; www.nationaltrust.org.uk/visit/wales/colby-woodland-garden
A magical land of power and influence for more than 2,000 years and home to the descendants of Lord Rhys, the powerful Prince of the Welsh Kingdom of the Deheubarth, Dinefwr is an iconic place in the history of Wales. In autumn, the 18th-century parkland explodes into a riot of colour when its veteran trees display an impressive crown of gold, red and orange leaves. The most remarkable perhaps is the ancient Castle Oak which would have been just a sapling when Dinefwr Castle was built more than 800 years ago.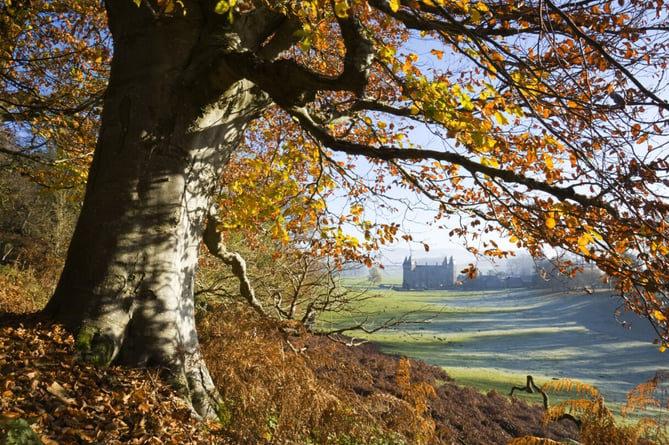 Dinefwr's estate in autumn
(National Trust Cymru)
Wrap up warm and enjoy a walk designed by Lancelot 'Capability' Brown when he visited Dinefwr in 1775. On this route you'll see some of oldest trees in Wales framing stunning views of Newton House and discover an amazing variety of plants and insects, and spot ravens and red kites which nest in the trees around you. Find out more; www.nationaltrust.org.uk/visit/wales/dinefwr
Llanerchaeron, Ceredigion
Nested in the heart of Ceredigion, in the wooded Aeron valley, Llanerchaeron is a Welsh country estate that has remained remarkably unchanged for over 200 years. With a Georgian Villa, a traditional farmyard, a walled garden, and a lake, there's plenty to explore.
Find a quiet place to sit in nature and enjoy the spectacular display of colour in the woodlands as the leaves turn fiery red, mellow ochre and rich bronze. You may spot a wide array of wildlife preparing for winter too - from birds and bats to otters and smaller mammals, this tranquil place is home to a wide range of creatures. Autumn is also the time when waxcaps start fruiting and glowing gems of crimson, saffron, white and emerald appear on the lawns. Traditional, low-level farming at this Site of Special Scientific Interest (SSSI) has allowed this rare fungus to thrive and more than 25 species can now be found here. Find out more; www.nationaltrust.org.uk/visit/wales/llanerchaeron