A care home Deputy Manager from Pembroke described as an inspiration to all has won a major award after overcoming personal challenges during the pandemic.
On Thursday night, the Inspire! Awards took place, when Emma Howells from Pembroke won the 'Skills for Work Award' after quickly progressing from Healthcare Assistant to Deputy Care Home Manager.
The Inspire! awards celebrate the achievements of exceptional individuals, families, community projects and organisations who have shown outstanding passion, commitment and drive to improve themselves, their community or workplace through learning.
Prior to the pandemic, Emma Howells, 45, ran her own upcycling and upholstery business. Despite her dyslexia, business was beginning to take off.
When the first national lockdown came, Emma lost her business overnight, and began looking at different avenues of employment. Having previously worked in care, she secured a job in a care home at the height of the COVID-19 pandemic.
Emma's commitment to her new job as a healthcare assistant meant she had to move out of her home to protect vulnerable family members. While working in the care home throughout the pandemic, she pursued several optional diplomas to continue her learning.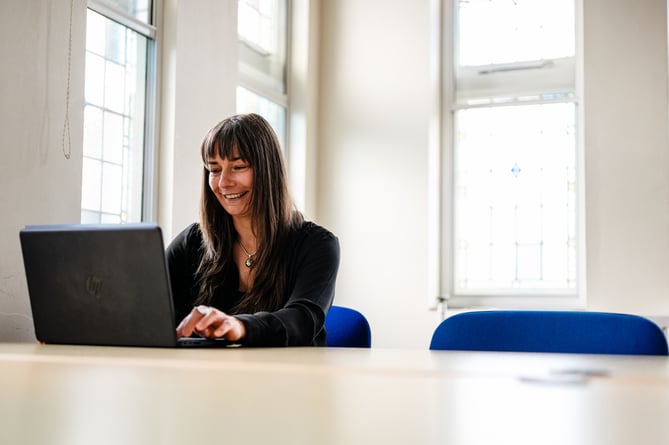 Emma Howells, Inspire! Award winner
(o&c photography)
She has now been awarded the 'Skills for Work' Inspire! Award after quickly progressing from Healthcare Assistant all the way through to Deputy Care Home Manager.
But learning completely new skills as someone with dyslexia was challenging.
Having been diagnosed with dyslexia in school, Emma manages her learning difficulty but admits she still struggles with building relationships and often sees things differently from others, meaning she is easily over-stimulated. This made studying for her Level 2 and Level 3 Adult Social Care Diplomas extra challenging, as she requires several adjustments such as additional time and screen covers.
In her role as a healthcare assistant at Ashdale Care Home, Emma found a love for learning, and having received help from PRP Training has enrolled herself on several courses on a range of topics, including psychology.
Then, just as Emma's personal situation changed and she needed to increase her income quickly, an opening for Deputy Manager came up at the care home and she decided to apply.
"It was quite ballsy actually, when I think about it. I thought, 'I'm pushing my chances now, but I need this and I'm going for it'. So, I did, and I got it. I was finally building a career."
Senior management at Ashdale Care Home has recognised Emma's admirable desire to learn, and her work ethic. Her manager, Neil James, commented: "From the start of her journey, Emma showed nothing but passion, dedication, compassion, and empathy which was very refreshing as we were battling a very different way of working due to the pandemic. Emma has a natural gift, and her desire to learn and develop led the way to her first promotion to care coordinator. She applied the same work ethic to that role, and as a result Emma now sits proudly beside me as my deputy manager.
"This is just the start of Emma's journey and I very much look forward to seeing what she will achieve over the next 12 months."
Having first worked in care between the ages of 18-21, Emma left the sector feeling that there needed to be more of a focus on the person, and that care environments needed to be more positive. Since coming back to work in care, Emma has noticed a shift in the type of care given and has found it encouraging.
"Seeing elderly people continue living their lives happily makes the job so much more rewarding" she said. "I like to make people feel comfortable and help them to lead a fulfilling life. I try to ensure that they are loved and supported."
As deputy manager, Emma is involved in the running of the care home, but she still oversees care on the corridors, supporting the healthcare assistants in their roles. She is able to continue learning in her new role and is about to start a Level 4 Adult Social Care qualification.
"The Level 4 investigates the laws and legislation, policies, procedures, and that aspect of the role. So, it is more managerial, which reflects more of my day-to-day now. It's challenging, but I'm learning every second of the day. I'd like to continue progressing to be the best I can be."
Emma is one of 11 winners to be recognised at the 2023 Inspire! Awards. Co-ordinated by the Learning and Work Institute with support from the Welsh Government and the Inspire! Awards recognise those who have demonstrated a commitment to never stop learning. Each Inspire! winner demonstrates how learning can offer second chances, help create new career opportunities, build confidence, and help communities to become vibrant and successful.
For adults in Wales keen to start their learning journey, in-person taster courses and online sessions will run throughout September and during Adult Learners' Week (September 18 to 24), with advice and information available locally to inspire people to take up learning as a way of increasing their employability and improving their confidence and mental wellbeing.
Jeremy Miles, Minister for Education and Welsh Language, said: "Congratulations to this year's Inspire! Award winners and nominees. It's incredible to see so many individuals of different ages, from varied backgrounds, and with a range of abilities overcoming personal challenges and becoming role models to us all. 
"The Inspire! Awards are a fantastic platform to showcase learners who have gone above and beyond to turn their lives around and succeed in their careers. Thanks to their hard work and dedication, this year's winners have shown how learning can help pave the way to personal and professional success.
Joshua Miles, Director for Wales at Learning and Work Institute, said: "The Inspire! Awards serve as a reminder of how important it is to never stop learning. We live in a world that's changing rapidly. Between the impact of the pandemic, the cost-of-living crisis and emergence of new technologies, nothing stays still for long. Learning helps us adapt to this change and ultimately benefit from it.
"If we keep learning and improving our skills throughout our lives, we can continue to increase our job prospects, and are more likely to secure a promotion or be able to change careers. We also know that learning is good for our self-esteem and mental health, making us feel more linked to our community. 
"Our Inspire! Award winners are a testament to how learning throughout our lives can help us deal with life's challenges. As we celebrate our winners, we hope that their stories can inspire more people across Wales to take part in courses throughout Adult Learners' Week."
To find out what's going on during Adult Learners' Week, and for personalised advice on your own learning options and support available, get in touch with Working Wales on 0800 028 4844 or search www.workingwales.gov.wales.