To celebrate the Welsh football team's success of reaching the Football World Cup, the Mentrau Iaith are publishing a series of murals all over Cymru. The first one with Joe Allen in Narberth has already had quite a lot of publicity with Joe Allen's parents giving their seal of approval.
Tegerin (Teg) Roberts and Lloyd Jenkins are the graffiti artists who have designed the murals and are painting them right now. Lloyd explains:
"His mum and his dad came down with me to have a chat when I was painting. I didn't realise they lived just round the corner. So that put a little bit of extra pressure on. They were over the moon, really stoked with it, and that was the main thing for me, I could relax then."
By now, a mural with Gareth Bale is attracting attention in the Hayes in Cardiff. Heulyn Rees, Chief Executive Menter Caerdydd says:
"It's great to have this fantastic mural of Gareth Bale in the city centre. It will certainly put a smile on people's faces. We hope that people will come to the Old Library to take pictures and feel the inspiration that Gareth Bale and the team are for us."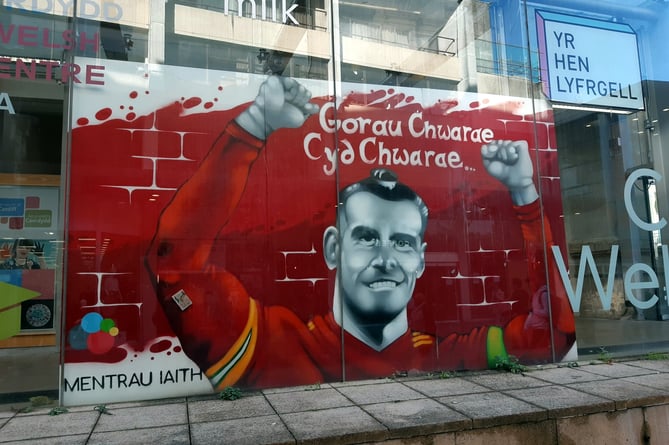 Dafydd Iwan's songs have been the inspiration for the activities organised by the Mentrau Iaith to celebrate the World Cup. "Peintio'r Byd yn Wyrdd" (Painting the World Green) is the song that gives the theme for the murals although painting the world red is more correct to celebrate the team and the Wal Goch (the Red Wall).
More murals will be appearing all over Cymru in the next days. Residents of Anglesey, Gwynedd, Conwy, Denbighshire, Montgomeryshire, Ceredigion, Newport, Rhondda Cynon Taf and Swansea should keep their eyes open for them!
Daniela Schlick, Project Coordinator with Mentrau Iaith Cymru explains:
"We formed a small committee to discuss ideas how to celebrate the Welsh football team's success, and the series of murals was an obvious one for us - literally. Our aim is to show the team's spirit and the spirit of the Welsh people in the murals. And even more importantly, we want to reach the communities in Cymru so that they can be part of the celebrations and for them to have something that can stay in the communities afterwards. This is the main reason why our murals are in places that are close to the communities. We are celebrating Team Wales, our language and heritage by welcoming everybody from everywhere to celebrate with us."
The network of the Mentrau Iaith is one of the key partners in the Welsh Government's World Cup Partnership campaign. They are organising a variety of exciting activities to celebrate the Welsh football team and their success reaching the World Cup in Qatar this year. More information can be found on the Mentrau Iaith Cymru website.