Working towards a more accessible Tenby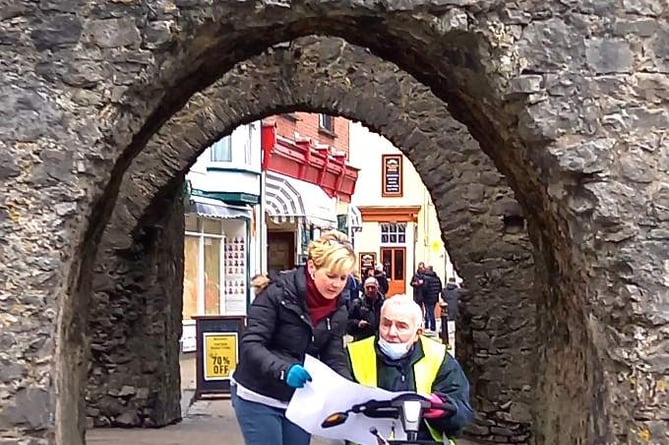 Clr. Trevor Hallett toured the seaside town with Mayor Clr. Mrs. Sam Skyrme-Blackhall to show her the many challenges he faces as he travels around the Walled Town in his mobility scooter
Subscribe newsletter
Subscribe to our email and get updates right in your inbox.
Anyone who has tried to get around Tenby in a wheelchair, motorised chair or pushing a pram will tell you how difficult it can be!
On Saturday, Clr. Trevor Hallett toured the seaside town with Mayor Clr. Mrs. Sam Skyrme-Blackhall to show her the many challenges he faces as he travels around the Walled Town in his mobility scooter. The pair also checked out plans to improve accessibility at key road junctions.
Clr. Hallett explained that he encounters all sorts of barriers including uneven surfaces, not enough dropped kerbs, vehicles blocking routes, scaffolding and traffic.
"You have to keep your wits about you as you travel around. Many of the roads and pavements are unsuitable and uneven," he explained.
"When the enhancement works were done some time ago, they did not lay all the cobbles correctly and that is why there are dips everywhere. They are a real hazard.
"In some cases, pavements are not wide enough for my mobility scooter and other times my route is blocked by scaffold or other obstacles.
"There also problems with the limestone kerbs not been laid in a set pattern and they are therefore uneven and dangerous in places."
Clr. Mrs Skyrme-Blackhall continued: "The issues that Trevor is highlighting are important and we must do all that we can to improve accessibility in our town.
"This is also an issue for people with walking aids and those who are visually impaired. Some people with unseen disabilities also experience difficulties.
"I know that this is an issue that Pembrokeshire County Council takes seriously, and we look forward to working with them to improve things.
"In the meantime, we all must think what we can do to make it easier for people with wheelchairs, mobility scooters and walking aids to get around the town."
During their tour of the town, both councillors looked at plans for new raised sections of roads on the Parade and at Trafalgar Road.
This will make crossing the road in these places much easier as the road will be raised, and the dropped kerb eliminated. This development coincides with the changes to the highway code that give greater priority to pedestrians.
Speaking about the enhancement the Mayor said: "I am really pleased that these works are going to be carried out. It will make getting into town from the multi-story car park much easier and crossing from town to the post office.
"It will also prove a much better access point further up on the parade. We are grateful to PCC for helping make Tenby more accessible"
Clr. Hallett and Clr. Skyrme-Blackhall will be raising this issue at a future Council meeting.
Tenby Town Council has an ongoing ambition to improve the accessibility of Tenby. Already projects associated with this have included introducing 'Beach Wheelchairs' for adults and children.
Other projects like 'Dementia Friendly Tenby' are progressing well and last week the group welcomed the first pledges from businesses in the town who are working towards dementia friendly status.
Comments
To leave a comment you need to create an account. |
All comments 0