Whitland First World War Exhibition 'simply excellent'
Friday 21st November 2014 12:00 am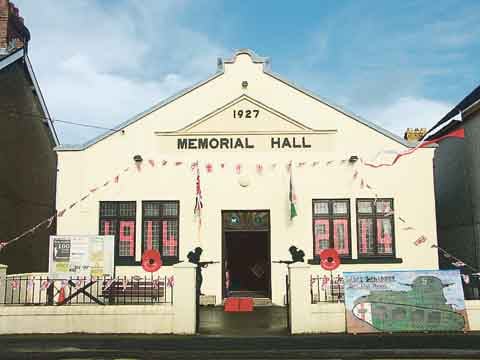 Subscribe newsletter
Subscribe to our email and get updates right in your inbox.
Whitland Memorial Hall was transformed for four days into a treasure trove of all things related to the First World War. This was part of a series of events being organised in Whitland between 2014 and 2018 as part of the First World War centenary commemorations.
Under the leadership of a group of representatives from the Whitland and Llanboidy branch of the British Legion, Whitland Town Council, 2420 Whitland Squadron ATC and Whitland Memorial Hall, over 20 people from the area gathered a wide range of family stories and mementos to showcase in the exhibition.
The exhibition was visited by over 400 people during the four days with visitors from Whitland, the surrounding area and further afield, including Caerphilly, Newport (Gwent), Ferryside and even Swindon and London, after being told by their families that 'you really have to come and see it.' Their comments included a simple 'excellent,' 'this is a first class example of how an exhibition should be set out, thank you so much,' 'as a student in Dyffryn Taf studying history, this is very helpful in learning about WWI' and 'this experience has brought the harsh reality of war back to life. It shows us why we commemorate them annually.'
Personal stories were represented by letters, diaries, maps, newspaper reports and official documents. Contributors related tales of romance, with men returning to marry and resume their lives in the locality; and tragedy, ending with official telegraphs and military graves.
Display cases exhibited memorabilia such as a German helmet, British and German shell cases, photographic slides created for early 3D viewing, bayonets, daggers, a 1915 Lee Enfield rifle, several medals and more. Even fighter pilot James Ira Jones (Taffy Jones) from St. Clears was represented, courtesy of 'The Tin Shed' from Laugharne.
And the stories were not confined to the men alone; the part that women played was told, including those brave souls who nursed on the front, as was the case of local nurse Edith Emma James.
The Llanfallteg History Society also brought to the exhibition some of their comprehensive research into the local involvement in WWI.
Ysgol Llys Hywel and Ysgol Dyffryn Taf had been invited to contribute to the exhibitions and they rose to the challenge. Pupils from Ysgol Llys Hywel created a large picture of a tank and a display of their own take on WWI posters. Ysgol Dyffryn Taf Year 9 pupils produced a fantastically high standard of work to add to the exhibition. Some pupils researched local casualties of the war, whilst others did some creative work and many a visitor to the exhibition confessed to shedding a tear while reading some of it.
Clr. Sue Allen said: "It was a very poignant exhibition, with historical backgrounds on local families and houses. A lot of thought went into the exhibition and there was something there for everyone to see."
After viewing the exhibits, visitors could sit down and browse through a selection of very informative books on the First World War while enjoying a cup of tea with a piece of cake made from recipes from the era, such a delicious Trench Cake or Seed Cake.
The First World War centenary commemoration activities will continue.
Mayor, Clr. Neil Jenkins, who opened the exhibition, said: "This shows what a wealth of talent we have in Whitland, and thanks are due to the team of organisers and all the people who contributed their time, knowledge and possessions to this brilliant exhibition."
Comments
To leave a comment you need to create an account. |
All comments 0