Redberth resident George MacCreath (24) is again raising money for the BBC Children in Need appeal.
George, an incredible young man with epilepsy, additional needs and a heart of gold, this year wanted to do something special for King Charles III in his Coronation year alongside the five challenges that George completes each year to raise money for his favourite charity. 
Starting earlier this year while working with the Haverfordwest-based charity FRAME, the planning for the King Throne began.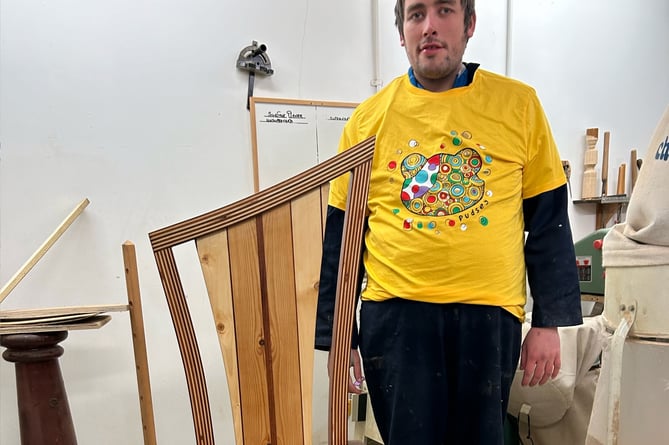 This is the 'Throne fit for a King' and George will be finishing the cushion to go on it.
(Pic supplied)
George is supported there each week to learn woodworking skills with the support of Arwel. FRAME's main focus is up-cycling furniture and creating gorgeous items from donated furniture to sell in their charity shop. George is so fortunate to attend Frame and has grown in confidence due to his time there.
George and Arwel worked together on the design and construction of the throne. It took many months and the result is a truly beautiful throne befitting any king. The throne is not only going to raise money for Children in need but for Pembrokeshire FRAME too. 
George's other challenge are a Lego build, a cake bake, a 3km walk at Scolton Manor, Tenby North Beach 133 steps x2, and a darts challenge - round the clock 1-50 the bull x3 in 1 hour