Last Wednesday for the monthly meeting, Lower Landsker Trefoil Guild member Jenny Vince came to share her willow weaving expertise.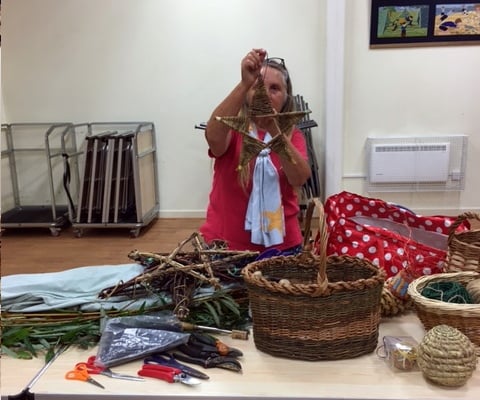 Jenny Vince giving her talk on willow weaving
(Lower Landsker Trefoil Guild)
Jenny brought a beautiful collection of baskets which she had made over the past two years, plus bunches of willow which she grows herself. She explained the different colours of the willow, and how to make it ready for weaving. Then came the moment of truth! She gave everyone a piece of willow and instructions on how to make a star. That was when the fun began!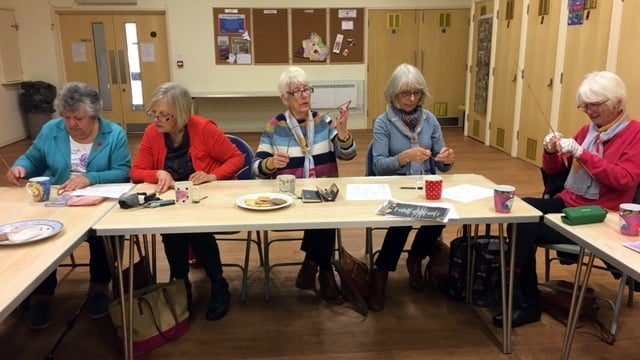 Trefoil Guild members try their hand at willow weaving
(Lower Landsker Trefoil Guild)
Although the instructions were very clear members soon realised how difficult it was, and let's just say some of the stars were very unusual shapes. However all persevered and everyone went home with a new star for Christmas.
Sara, on behalf of the group, thanked Jenny for all her hard work, and for her patience, and all agreed it had been a most enjoyable morning.
Members of Lower Landsker Trefoil Guild have continued to enjoy their Wednesday walks whatever the weather. It was good to pay a final visit to Y Bwythyn at Colby Gardens to enjoy Penny's delicious cakes one last time, though it was too muddy to walk far.
Many members also made the trek up to Tenby Museum where they were rewarded with Alan Crockford's amazing Tenby photography exhibition. It was good to share memories of some of the old faces long gone, and to marvel at the quality of his latest portraits. Well worth the climb!
The next monthly meeting, members will meet for the annual Christmas lunch on December 6 at The Billycan.