Sponsors of the Narberth Outdoor Rock music event in August listened to an inspiring talk from Pembrokeshire Scout Poppy Cumine at a presentation evening.
On Wednesday, November 8 at Narberth RFC, Rotarians and honoured guests were welcomed by RFC chairman Rob Lewis.
The comfortable Lounge Bar was adorned with banners from the highly successful third annual Narberth Outdoor Rock 2023 which featured tribute acts 'Don't Stop QUEEN Now' and 'Bon Giovi.'
At 7.30pm guests enjoyed a buffet prepared by the club Steward Sheena Conbeer. Drinks were also served which made the evening  particularly sociable and enjoyable.
Then it was time for Rotarian Rob Elward to introduce guest speaker Poppy Cumine, who had attended the World Scout Jamboree in Seoul having been financially supported on her trip by Narberth & Whitland Rotary.
Poppy gave a 15 minute talk on her experience. Seventeen year old Poppy Cumine and her parents live just outside Pembroke town. Poppy is a past pupil at Henry Tudor secondary school and is now studying for A-Levels in English, History and Law at Pembrokeshire College.
In 2020, Poppy was involved in a very serious accident while cycling not far from home. She suffered severe damage to her neck and spinal cord which resulted in her being transferred to Stoke Mandeville hospital where she stayed many weeks undergoing specialist treatment.
But Poppy is nothing if not a very positive and determined young woman which is helping her enormously on her long road to recovery.  Her determination to not have her serious injuries deter her from participating as far as possible in activities led her to apply for, and successfully gain, a place in the team representing Wales at the World Scouting Jamboree held in Seoul, South Korea earlier this year.
Poppy's talk was delivered with humour and confidence. It drew loud applause when she finished.
Following on from that, the main purpose of the evening was to distribute proceeds from the Outdoor Rock show.
This had been a joint effort, which was produced by the committees of Narberth & Whitland Rotary and The Narberth RFC. The Cheques to the eight deserving charitable causes were presented by Rotarian President Phil Thompson.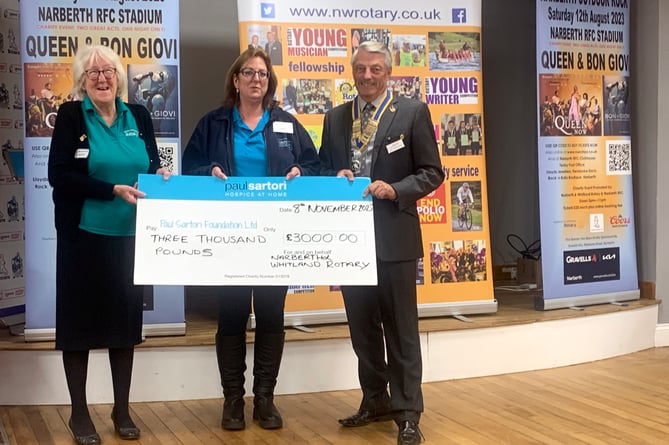 Rotarian president Phil Thompson and treasurer Sue Pridmore present the cheque to the Paul Sartori Foundation.
(Pic supplied)
The total amounted to £10,000 which was greatly appreciated. The beneficiaries were: Paul Sartori Foundation, Wales Air Ambulance, Living Memory Group, Merched y Mor, RNLI Tenby Branch, Narberth Foodbank, Whitland Foodbank and, Prostate Cymru.
Each of the organisations sent a representative to receive a cheque and each, in turn, gave a brief description of the work their organisation does. President Phil Thompson thanked all of the organisations for the charitable work which they each perform in their various communities and he complimented Rotarian John Sleigh for coordinating the invitations and confirming the attendees for the evening.
Fourteen individuals and organisations were also credited aloud for the volunteer support they had given for the event which was fully appreciated by the audience.
Organiser of the NOR2023 Rock Show, Rotarian Ken Morgan, commented that since 1984 when he first joined the Rotary movement, the Narberth Outdoor Rock has proved to be the best financial fundraiser throughout all his years of membership and he encouraged guests to think about how they might also help in the various Rotary community activities. He said:
"Wthout the backing of many volunteers and major sponsors underwriting some of the base costs of the Outdoor Stage and the musical acts  we may never have taken the chance of committing large sums of money to put on such an impressive music show with expensive acts. In particular, Puffin Produce Ltd and Coors Brewers have been supportive for the past three years and we look forward to their continued association with such an enjoyable event, the aim of which is to raise funds for deserving causes in our community"
Before the meeting closed, a surprise visit was made by some of the Narberth RFC Otters youth team who sported their new Rugby tops. President Phil Thompson made the official presentation of these shirts which Rotary had sponsored. RFC Treasurer John Llewellyn and Team Coach Jason Jennings were also in the photographed line up.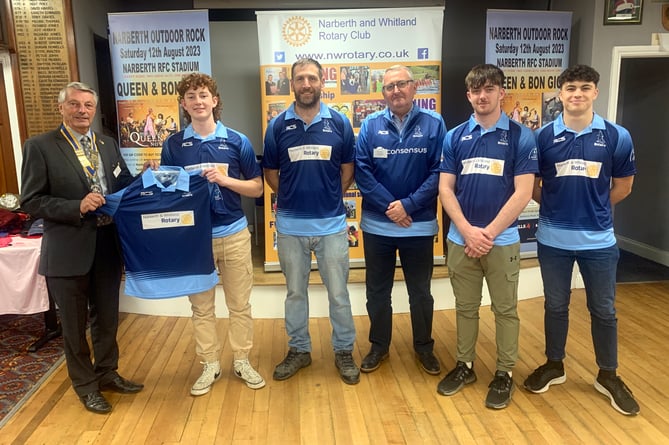 Otters Youth Team with Coach Jason Jennings third from left, next to Treasurer John Llewellyn
(Pic supplied)
RFC chairman Rob Lewis remarked that he was glad to see so many guests turned up and commented on the close working relationship between the members of Narberth & Whitland Rotary and the Narberth RFC.
The following day, Sheena was given a well-deserved bouquet of flowers from John Sleigh in recognition of her quality sumptuous buffet.
Next year the Narberth Outdoor Rock 2024 will be bigger and better. More marquees will be hired for spectators to give cover in case of inclement weather. An additional band will perform making three acts in total whereas last year there were only two. A superior standard of trailer toilets will also be hired especially for ladies to use in comfort with running hot water in the sinks. Rotary and the RFC aim to make this event a continuing success offering superior facilities and superb music. There will also be bigger outside bars and food outlets.
Tickets sales will be online later this year. Local band The Sleeping Dogs from Tenby (a four-piece set) will warm up the crowd before the first tribute act "Forever Elton" (a five-piece set) followed by "UK Fleetwood Mac" (a seven-piece set). The show will start at the earlier time of 4pm and will be licenced until midnight.
Should be another great charitable fundraiser!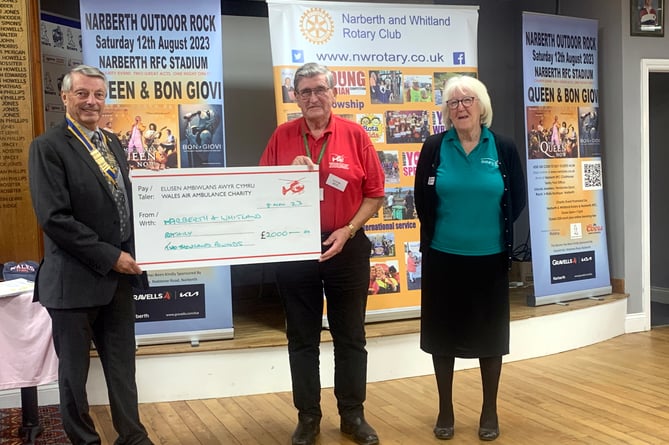 Rhys Watkins receives the donation on behalf of Wales Air Ambulance
(Pic supplied)