Pembrokeshire's Darwin Centre has launched an exciting competition in honour of the Darwin 200 voyage, which retraces the steps of the renowned naturalist Charles Darwin aboard the Dutch tall ship Oosterschelde.
The Darwin Centre, in collaboration with Wakelet, has announced the launch of the Darwin Doodle Competition, a global art competition for young people aged 4 to 18.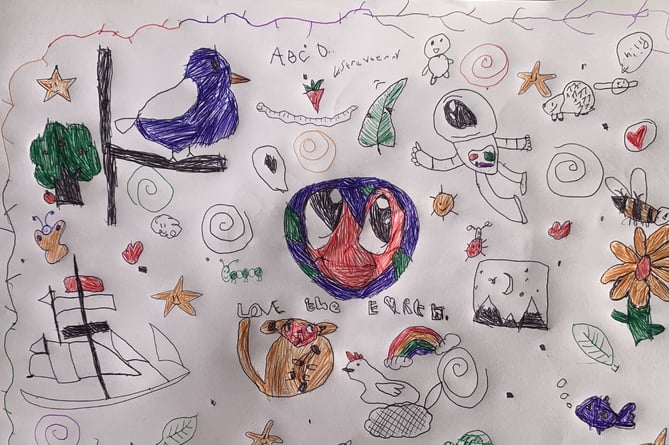 Noah, age 9 doodle competition entry
(Noah)
Young people are invited to create a drawing or doodle inspired by the natural world and the Darwin 200 voyage.  Entries can be submitted via the Wakelet website www.wakelet.com/@darwindoodlecompetition  from now until February 1, 2024.   
The winner of the competition will be judged and announced by the Doodle Boy, Joe Whale, on Charles Darwin's 215th Birthday, February 12, 2024.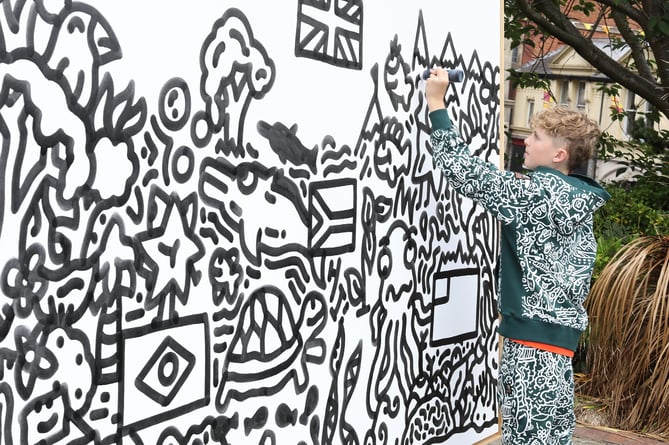 Joe Whale aka The Doodle Boy at Shrewsbury Town Library working on his masterpiece.
(Phil Blagg Photography)
The prize for the best entry is a trip for two to the Galapagos Islands to meet the Oosterschelde and the team of Darwin Leaders who will be carry out research projects linked to conservation!  The winner will also walk away with Darwin Doodle merchandise from Joe Whale's initial artwork linked to the Darwin200 voyage.   
The Darwin Doodle Competition encourages young artists to create their own interpretations of Charles Darwin's famous Tree of Life doodle, emphasising the importance of humanity's role in protecting and harmonising with nature. 
This competition is a unique opportunity for children and teenagers to showcase their artistic talents and contribute to the celebration of Charles Darwin's legacy. It's part of the larger Darwin 200 initiative, which aims to change the world for the better by retracing Charles Darwin's historic voyage aboard HMS Beagle two centuries ago. The Dutch tall ship Oosterschelde is currently on a mission to visit Darwin ports around the world, where 200 young Darwin Leaders from 200 different nations are conducting experiments, participating in habitat restoration projects, advancing human knowledge, and carrying forward Darwin's legacy.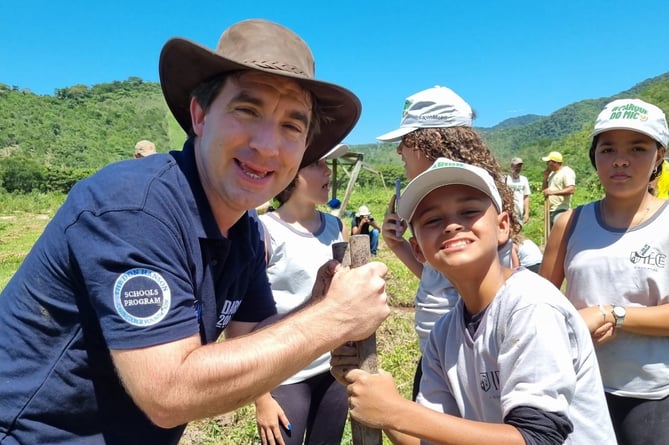 Darwin 200's Stewart McPherson planting trees to build a corridor between two important sections of Atlantic rainforest for Golden lion tamarins.
(Pic supplied)
Darwin Centre Manager Samantha Williams said:
"This opportunity provides an excellent platform for young artists to engage with the principles of biodiversity, conservation, and the beauty of the natural world, which were at the heart of Charles Darwin's work. 
"We also encourage any young conservationists (18–25-year-olds) within Wales to apply for a position as a Darwin Leader. If successful, they will join the ship at one of its ports and conduct a research project into a plant or animal previously studied by Charles Darwin through collaboration with an experienced local conservation organisation."